please, hold the mouse on the logo

Zürich

[lrt-tram]

Country:

Switzerland

Line:

Line 2, Line 3, Line 4, Line 5, Line 6, Line 7, Line 8, Line 9, Line 10, Line 11, Line 12, Line 13, Line 14, Line 15, Line 17

Inhabitants:

City 390000, District --
DESCRIPTION
Zurich tram opened in 1882 (initial horse tram) and it was electrified in 1894. The tram network included many urban and suburban routes, each one with its single operator; in 1930 all the urban routes were acquired by a single operator (StStZ), which routinely closed any out-of-city lines belonging to the companies it took over (while, in other cases, private sector operated lines succumbed without StStZ involvement).
During years '50s some tram routes were replaced by trolleybus lines (1954-1956: Burgwies-Hardplatz; 1956-1958: Farbhof-Schlieren).
In years 1970s Zurich planned the construction of a full U-Bahn system, which was finally rejected in a referendum (1973), but not before several stretches of U-Bahn tunnel had been built: one of these sections (Milchbuck-Schorlistrasse) is now utilized for tram service. The existing tram network was extended in 1976 (Hardturm-Werdholzli, first extension since 1954), 1986 (Lines 7 and 9 extended into north-eastern new residential areas, through the above mentioned underground section) and 2017 (Line 8 Hardplatz-Schiffbau section).
Starting from year 2000 the tram system got a further relaunch, in order to offer an efficient public transit system to the Glattal region (north of Zurich) inhabitants (about 150'000 residents and 120'000 employees); one of the targets was the reduction of roads congestion, cutting down the number of cars passing every day through the city centre. A modern tram line (Glattalbahn, which is current articulated in tram routes 10, 11, 12) opened in 2006 (Oerlikon-Glattpark-Auzelg); it was extended in 2008 (Glattpark-Airport), and 2010 (Auzelg-Stettbach). Glattalbahn track connects Rehalp (south-east) and Stettbach (east) with Oerlikon, Glattbrugg and the airport (in the northern part of Zurich), interchanging with the railway system (Swiss Federal Railway S-Bahn/SBB) and with other tram and bus lines. The track is mostly ground level, with many sections in reserved lanes and with some viaduct segments in order to maintain the system segregated from road traffic.
The current tram network consists in 17 lines.
(last modified June 26, 2018 )
HISTORY

date
section name
line
1882
initial horse tram opening
--
1894
electrification completed
--
1976
Hardturm-Werdholzli
--
1986
Lines 7 and 9 extension into north-eatern new residential areas
--
2006
Oerlikon-Glattpark-Auzelg
--
2008
Glattpark-Airport
--
2010
Auzelg-Stettbach
--
11-12-2011
Escher Wyss Platz-Altstetten railway station
--
10-12-2017
Hardplatz-Schiffbau
--

(last modified June 26, 2018 )




TECHNICAL DATA

Single line length (Km)

--

Single line stops

--

Single line avg. distance (km)

--

Total track length (km)

73.7

Total network stops

191

Avg. stop net distance (km)

0.4

Type

steel wheels

Current/Voltage

600 V DC overhead

Type of guide/gauge

metric gauge rails (1000 mm)

Vehicles builder

SWS/SWP7SIG/BBC/ABB,BOMBARIER/ALSTOM

Model

Be 4/6 Mirage,,Be 5/6 Cobra,Tram 2000

Operator

VERKEHRSBETRIEBE ZURICH

(last modified June 26, 2018 )
This image is shown smaller (800 x 889 pixels) than its maximum size (2000 x 2215 pixels)
Please click on the map to enlarge it to its maximum size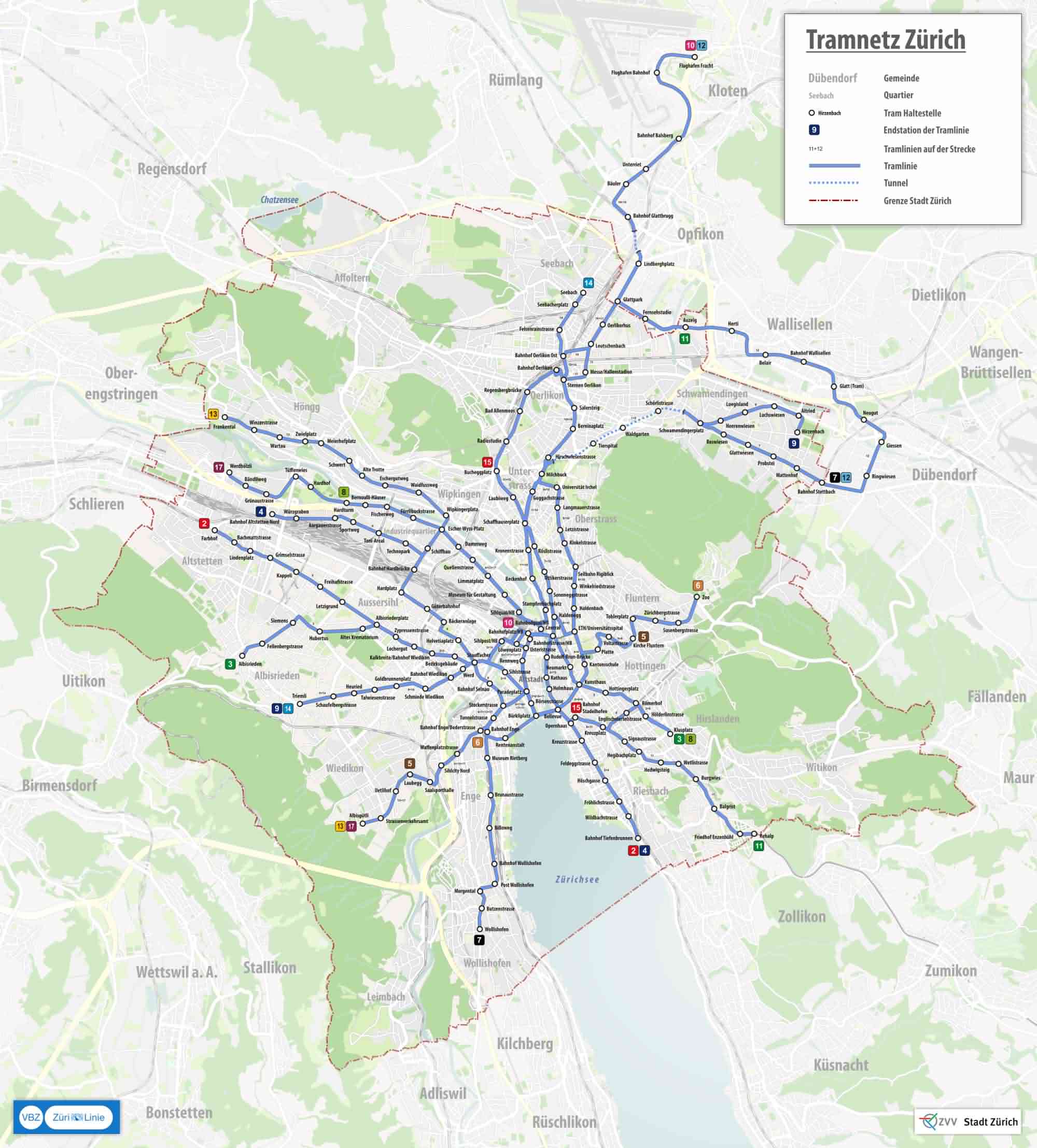 lrt-tram - zürich; By Tschubby [GFDL (http://www.gnu.org/copyleft/fdl.html) or CC BY-SA 3.0 (https://creativecommons.org/licenses/by-sa/3.0)], from Wikimedia Commons

LATEST UPDATES TO THIS SITE
| | |
| --- | --- |
| apm | 19-02-2017 |
| lrt-tram | 27-06-2018 |
| metro | 26-06-2018 |
Total size of this site MB 268